What is micro:bit?
micro:bit is a small microcontroller. micro:bit is smaller than a credit card. Price is about 150-400NOK ($15-30). It can be used by kids and students to learn programming, technology and science.
micro:bit can run a special version of Python called MicroPython. MicroPython is a down-scaled version of Python. You can use other Programming Languages as well, but resources you findhere will use Python/MicroPython.
Introduction to micro:bit (YouTube) + Textbook (PDF) + PowerPoint (PDF)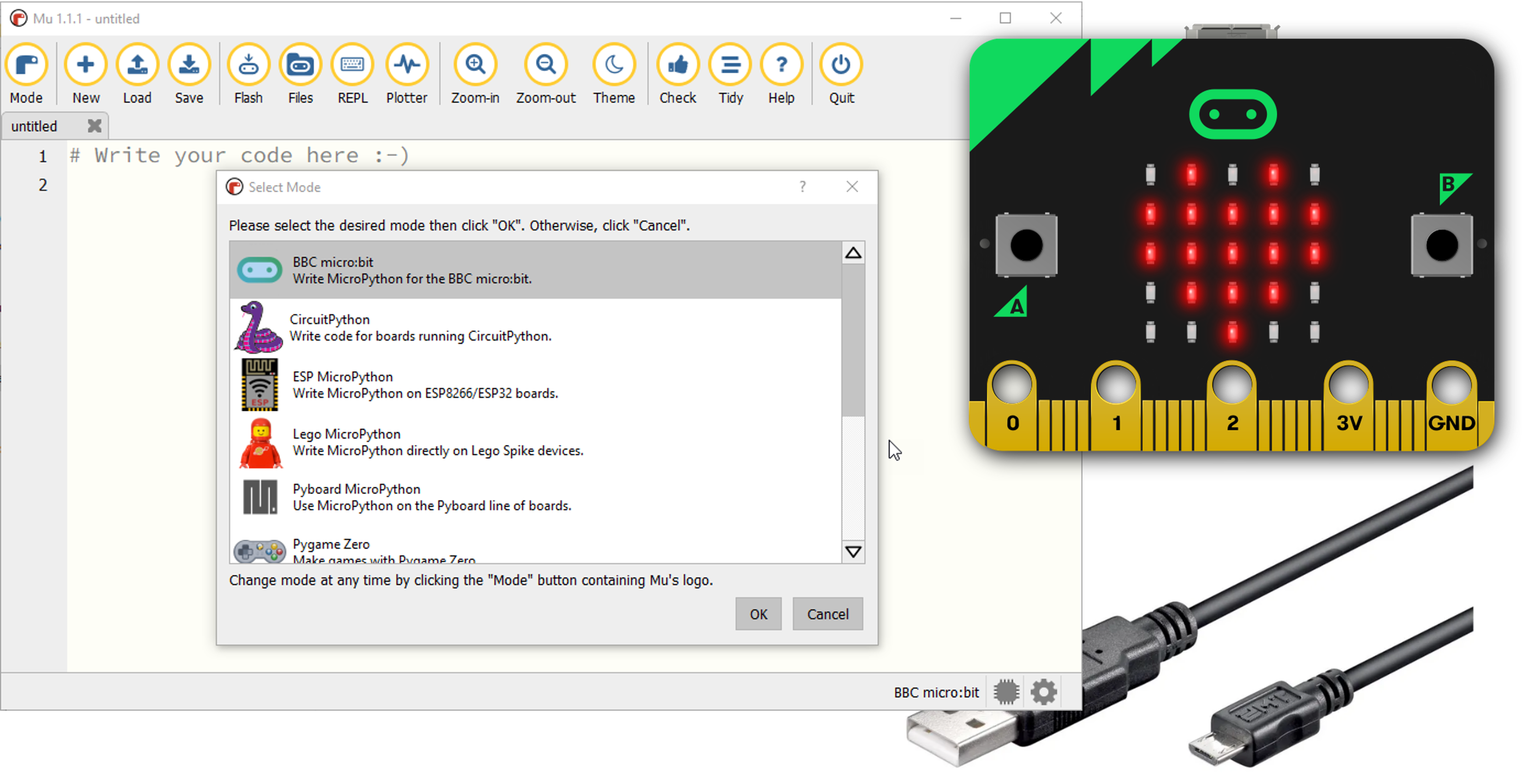 micro:bit Home Page: https://microbit.org
Want to buy micro:bit? You can buy it many places online, e.g., Kjell & Company (Norway), Elfa, RS, Sparkfun, DigiKey, ebay, etc.
Additional recommended components in addition to the micro:bit itself: Breadboard, Jumper Wires, Resistors, LEDs, temperature sensors (e.g., TMP36, Thermistor 10K), Bananaplugs/Aligator/Crocodile clips, and an Adapter Breakout Board for micro:bit (can be bought at Elfa, etc.). Note! The Adapter Breakout Board for micro:bit is highly recommended, because than you have easy access to the pins on the micro:bit using an ordinary a breadboard and wires.
Tutorials
Below you find Tutorials, Videos and Resources for the micro:bit. Not all resources are ready at the moment, but new resources are released continuously. Stay tuned!
Introduction to micro:bit (YouTube) + PowerPoint (PDF)
microbit using builtin Sensors and Interfaces (YouTube, coming soon) + PowerPoint (PDF)
microbit and LEDs (YouTube, coming soon) + PowerPoint (PDF)
microbit and Push Buttons (YouTube, coming soon) + PowerPoint (PDF)
microbit and TMP36 Temperature Sensor (YouTube, coming soon) + PowerPoint (PDF)
microbit and Logging Sensor Data (YouTube, coming soon) + PowerPoint (PDF)
microbit and Thermistor 10K Temperature Sensor (YouTube, coming soon) + PowerPoint (PDF)
microbit and I2C using TC74 Temperature Sensor (YouTube, coming soon) + PowerPoint (PDF)
microbit and SPI using DAC MCP4911 (YouTube, coming soon) + PowerPoint (PDF, coming soon)