What is Cyber Security?
Cyber Security is the practice of protecting systems, networks, and programs from digital attacks. These cyberattacks are usually aimed at accessing, changing, or destroying sensitive information, extorting money from users, or interrupting normal business processes.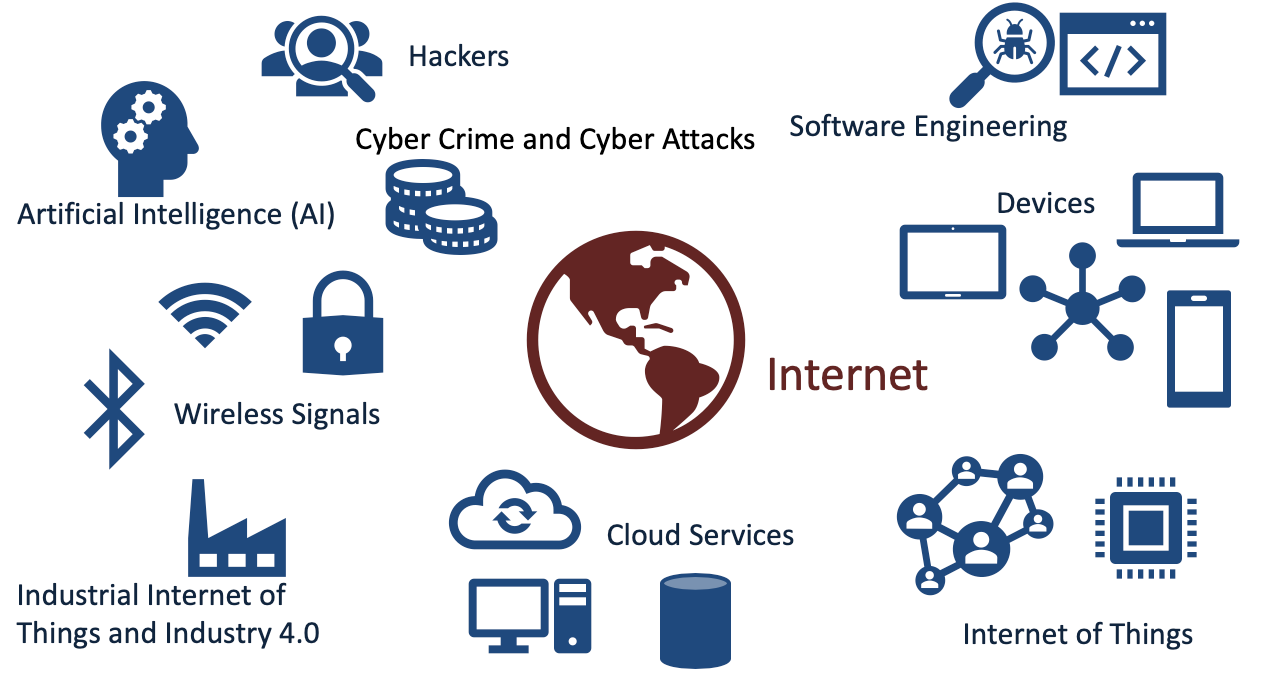 Read the following textbook in order to get an overview of Cyber Security:
Cyber Security - Cyber Security, Data Security, GDPR and Data Privacy (Textbook)
Below, Cyber Security is discussed in context of IoT systems, Industry 4.0, Cloud systems, Web Technology and Software Engineering.
Internet of Things (IoT)
The Internet of Things (IoT) is a network of physical objects and items, such as devices, vehicles, buildings, etc. which are embedded with electronics, software, sensors, and network connectivity, which enables these objects to collect and exchange data.
Security is crucial in IoT Applications
Maintaining a high level of security is critical when transporting the data around the IoT network. Information transmitted through this network can be anything from temperature sensor data in production machines to patient data recorded by X-ray machines in hospitals.
Business-critical information is often collected and reported in a central database located somewhere in the cloud or a local data center. When we have IoT devices containing so much sensitive data, security is absolutely essential for developers who want to take advantage of the benefits offered by IoT technology.
Video: IoT Security with Arduino
Industry 4.0 and Industrial Internet of Things (IIoT)
Industrial Internet of Things (IIoT) is another word for Industry 4.0. Security is crucial in IIoT applications.
IoT – Consumer oriented, Smart Home Solutions, etc.
IIoT – Industrial use of IoT Technology.
IoT often focuses on comsumer-oriented products and solutions, while IIoT focuses industrial use of IoT technology.
Read more about Industrial IT and Automation
SCADA Systems
SCADA (Supervisory Control And Data Acquisition) is a type of Industrial Control System (ICS). Industrial Control Systems (ICS) are computer controlled systems that monitor and control industrial processes that exist in the physical world.
Industrial Control Systems, like PLC (Programmable Logic Controller), DCS (Distributed Control System) and SCADA (Supervisory Control And Data Acquisition) share many of the same features.
Next Generation Control and Automation Systems/SCADA systems are closely reeated to Industrial Internet of Things (IIoT) and Industry 4.0.
Web Technology
Web Technology has become essential today because Internet has become the number one source to information, and many of the traditional software applications have become Web Applications. Web Applications have become more powerfull and can fully replace desktop application in most situations.
Software Engineering
Software Engineering is the discipline for creating software applications. A systematic approach to the design, development, testing, and maintenance of software.
Security should be in focus in all Software Engineering Projects.
Cloud Computing and Hosting
Security is crucial in Cloud Computing and Hosting.
Projects
Below you find Projects and Examples regarding IoT and Cyber Security.
Student Projects:
Software Testing, Data and Cyber Security and GDPR
Publications
Internet of Things and Cyber Security Publications
Scientific Articles
Sandboxing for Cross-Platform Applications of Robots - Hans-Petter Halvorsen, Alexander Jonsaas, Saba Mylvaganam - 2019 IEEE International Symposium on RObotic and Sensors Environments (ROSE), June 17-18, 2019, Ontario, Canada. ISBN 978-1-7281-1964-9. Available from IEEE Xplore.
Textbooks